America's Cup winners and Olympic gold medalists, Peter Burling and Blair Tuke share their knowledge on how to make an environmental and social impact.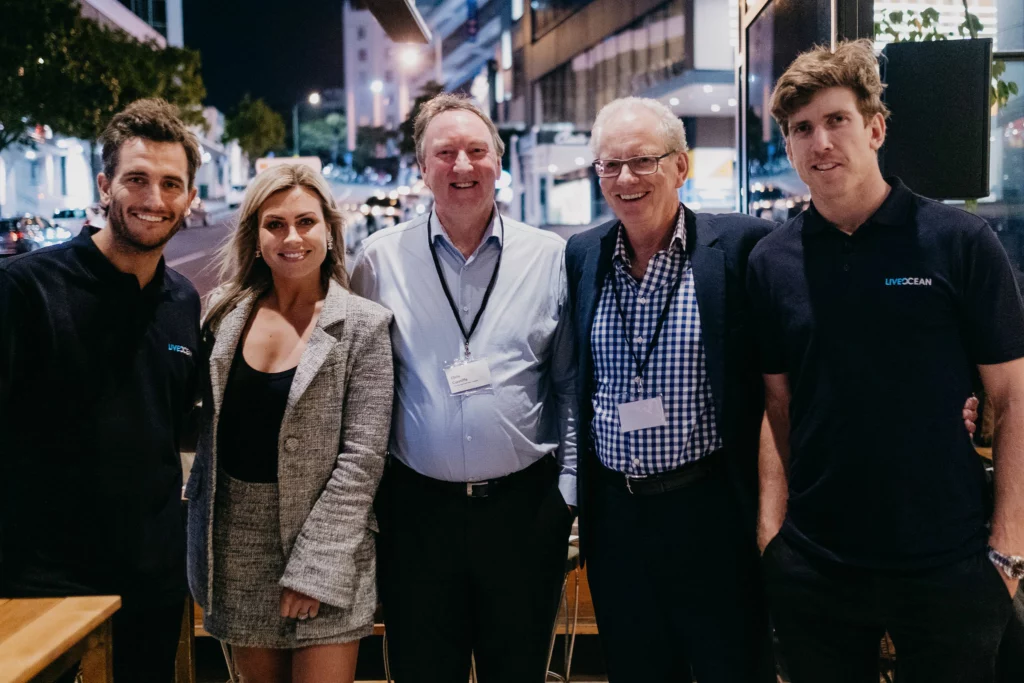 From left: Blair Tuke, Laura McGoldrick, Chris Cunniffe – TMNZ CEO, Ian Kuperus – TMNZ Founder and Peter Burling
TMNZ and the Whakatupu Aotearoa Foundation share the vision of a restored and thriving New Zealand, and we are proud to partner with like-minded organisations as we strive to build a better future for Aotearoa and its people.
In June, we welcomed Peter Burling and Blair Tuke, founders of Live Ocean and co-CEOs of the New Zealand SailGP Team. At Pilkingtons in Auckland CBD, the duo spoke to TMNZ clients about building their ocean conservation organisation, Live Ocean Foundation, and their goals to make a meaningful impact on ocean health in New Zealand.
The yachtsmen set up the charitable entity Live Ocean Foundation just before the Tokyo Olympics and recently launched Live Ocean Racing, which is a sailing team with a current focus on female development in high performance foiling boats. The Foundation partners to scale up local marine science, innovation and outreach with global implications.
At TMNZ, our clients are a key part of what enables us to direct 100% of our profits to Whakatupu Foundation Aotearoa for initiatives that enable Aotearoa to thrive. One of the organisations we fund is Live Ocean Foundation, and our recent event allowed us to demonstrate the great work undertaken by the organisation.
Peter and Blair have an inspirational story to tell. Both spoke passionately about their reasons for setting up their purpose-driven venture, using their careers to make an environmental impact, and their pride in winning the first-ever SailGP Impact League trophy.
Ocean challenges and opportunities
The duo spoke about their love of the ocean from an early age, how that has shaped their careers, and the formation of the Live Ocean Foundation.
Blair, from Kerikeri in Northland, says he was "lucky" to have grown up in New Zealand, living close to the ocean, and spending most of his life out on the water.
A key moment for both arrived in 2017-2018 after Blair and Peter took part in the round the world Ocean Race. The vastness and beauty of the ocean prompted the pair to apply their skills and use their platforms for a healthy ocean ..
"We saw some really unique places around the world," says Blair. "We saw the power of the ocean, and realised what we could do with our profile and position."
Peter, from Tauranga, says it is vital for the planet to have a healthy marine environment, as 94% of New Zealand's country-wide area is covered by ocean.
"As a nation, we have a big contribution to make on the world stage. But we are a long way behind in terms of the way we look after the ocean and our conservation policies. We have a big opportunity to make some incredible steps forward."
Live Ocean's purpose
The pair's Live Ocean Racing team competes in international events and raises awareness about ocean conservation.
Blair says the team has "purpose in its DNA".
"We wanted to use our sporting platform right from the foundation's inception. It's a team that races on, and for, the ocean."
Live Ocean Foundation is an official charity partner of the New Zealand SailGP Team that competes in the elite international sailing competition SailGP, further raising its profile.
"It's amazing to have our purpose baked into the sport," says Peter. "You get to reach so many people you wouldn't otherwise with important environmental messages."
Peter and Blair attended the UN Ocean Conference in late June as part of their efforts to raise ocean awareness, meeting with the UN's Special Envoy for the Ocean, Peter Thompson.
The pair said they were surprised at how quickly the international community had supported them.
"It's amazing to see people getting behind us. But New Zealand has got lots of areas where we need to step up to meet international standards but we need to also do that in a way that's unique to our country," Peter adds.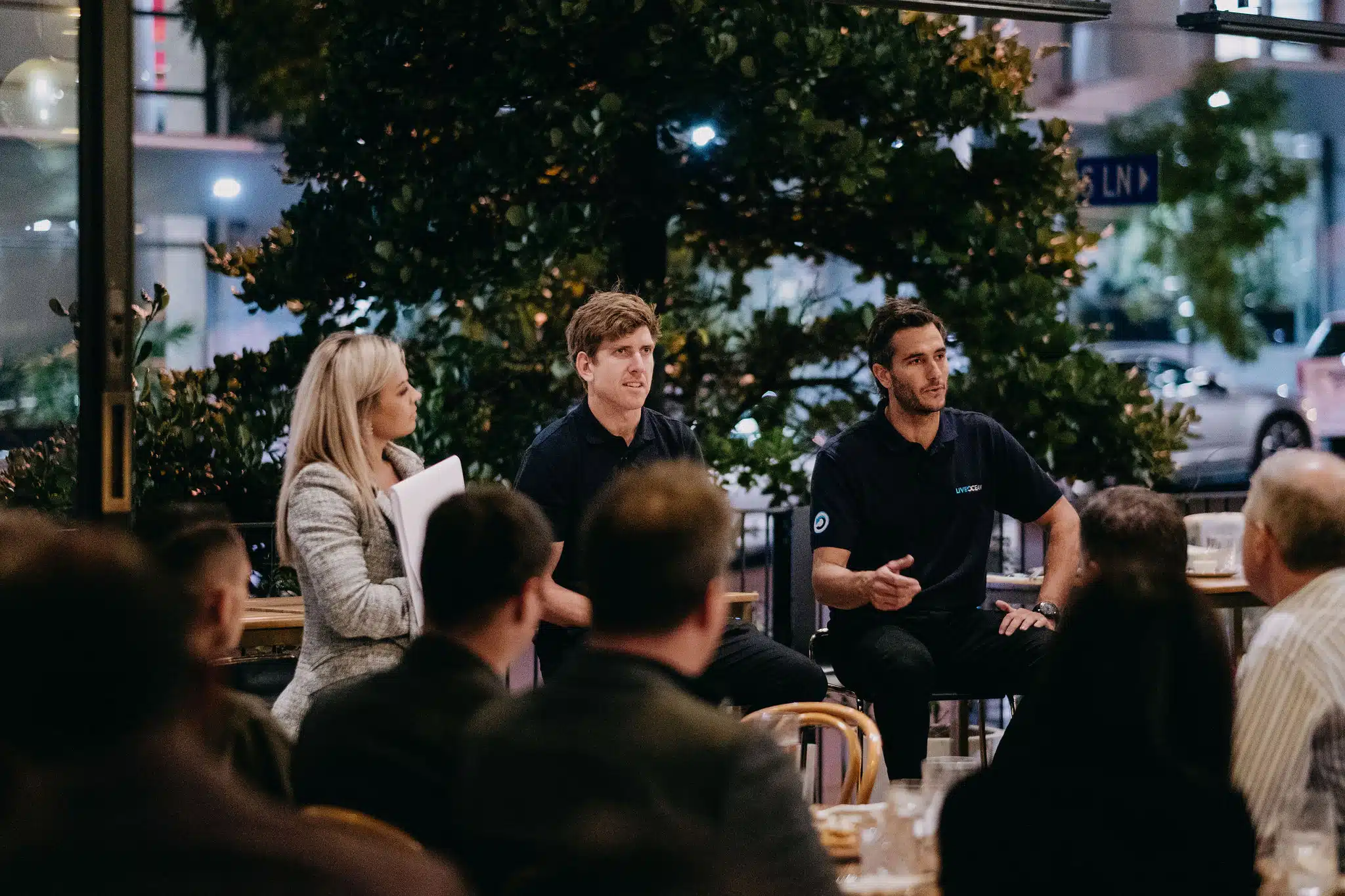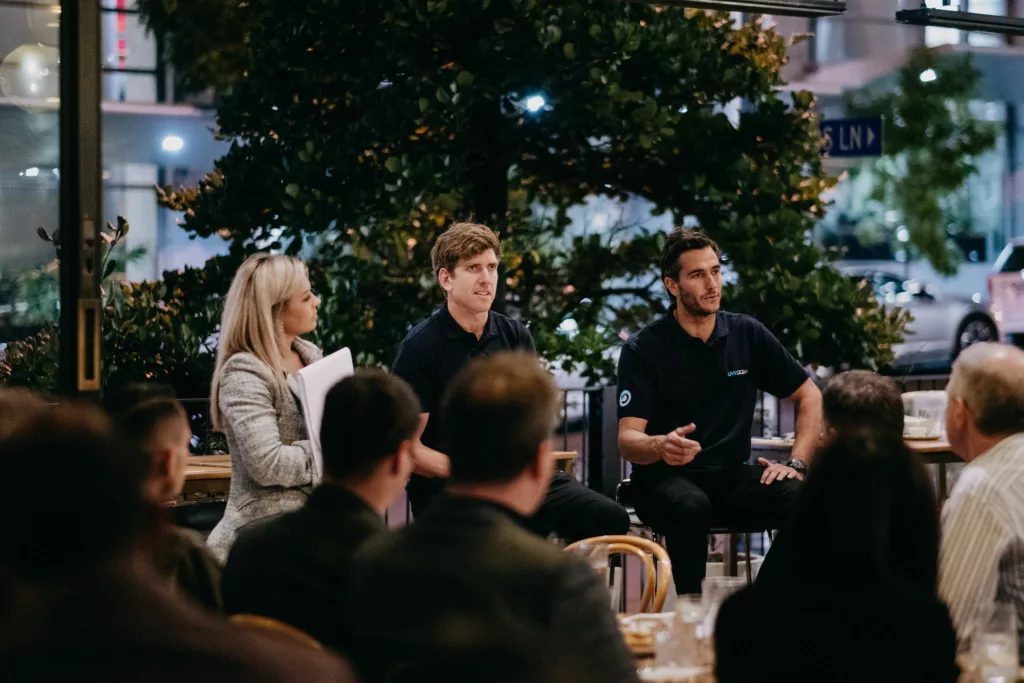 World impact
While SailGP is the first climate-positive sport and entertainment property, it has ambitious targets to further reduce its carbon emissions – going beyond the UN Sport for Climate Action goal to make 50% absolute cuts by 2030 and achieve net zero by 2040.  
Peter says the competition is taking "strong measures to try and mitigate its footprint". 
In a world-first for a sporting competition, SailGP is rewarding teams for their environmental performance. The competition's Impact League ranks each team against environmental and social criteria, ranging from clean energy usage to food waste.  
The New Zealand SailGP Team  won the first edition of the Impact League, taking home US$100,000 for the Live Ocean Foundation. 
Blair calls the trophy "a seriously proud moment for the team".  
"I'm proud of our team for using our voice, and seeing the enthusiasm to be better. All of the teams in SailGP are improving, and that's ultimately what we're all after, for everyone to lower their footprint." 
Personal responsibility and the role of business
When asked how New Zealand businesses should consider a purpose-led journey, Peter urges companies to think big.
"Be ambitious," he urges. "Try and be passionate about what you're doing. We've been lucky to find something we are passionate about, but there are so many worthy issues out there."
Blair offers advice to any company considering putting environmental or social impact at their core.
"Find an issue you identify with. That means you'll be able to integrate it within your business or life more easily. We're fortunate with Live Ocean because it's linked to everything we do every day."
To find out more about Live Ocean, visit www.liveocean.com
To see the other ways we're helping to build a restored and thriving Aotearoa, visit www.whakatupuaotearoa.org.nz