Our new Auckland office aligns with our ambition to build a more sustainable future for Aotearoa. Here's why we made the move.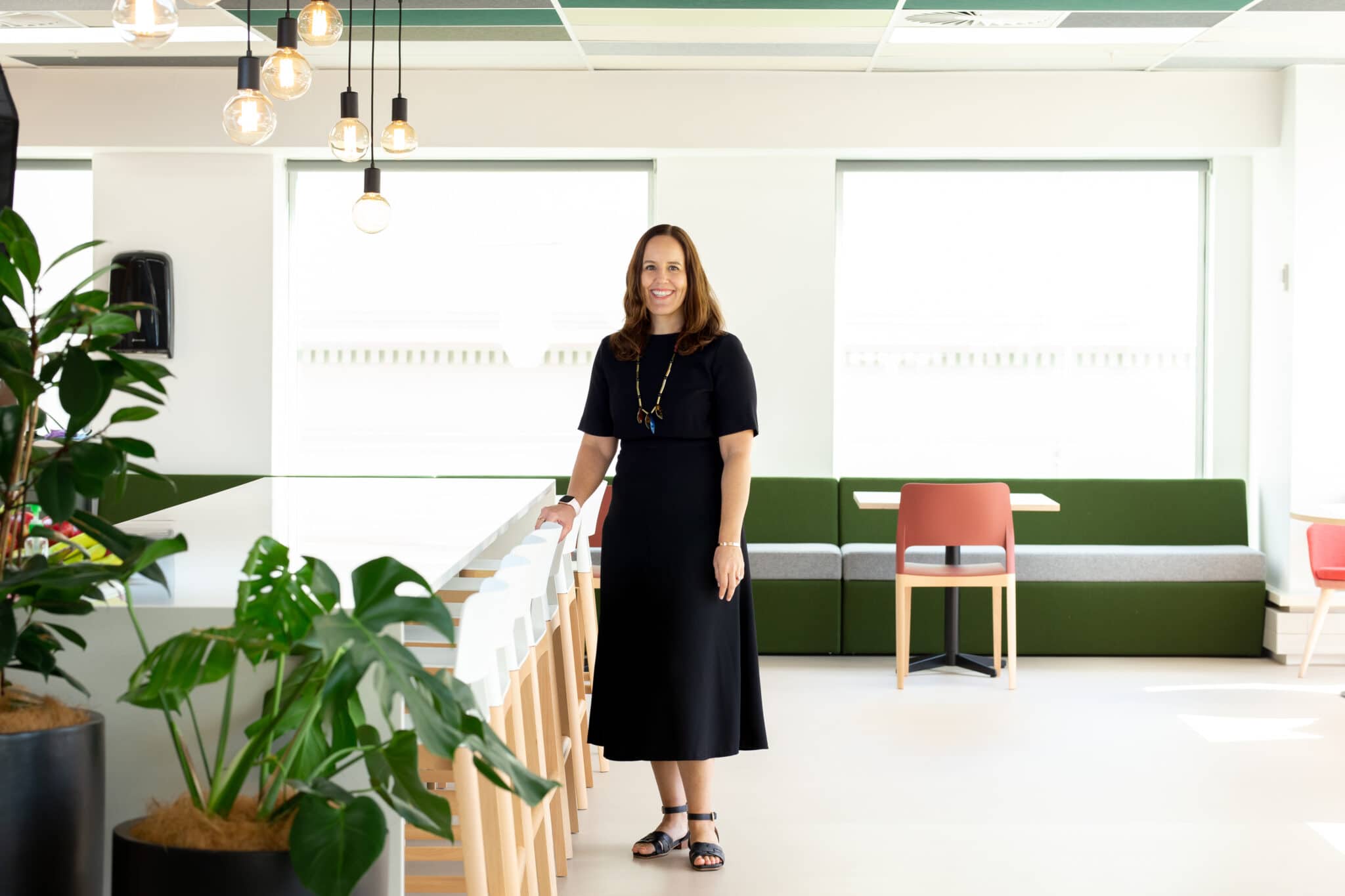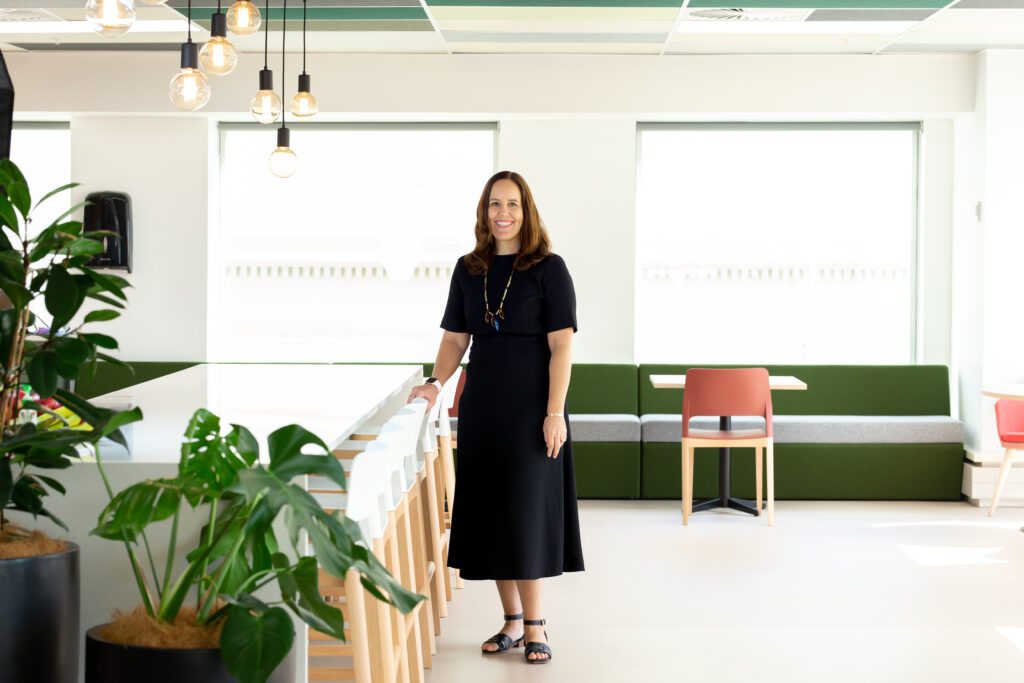 When we kick-started the process of finding a new Auckland home last July, we were eager to do things differently and place a strong emphasis on sustainability. At TMNZ, we've always been conscious of the environment, but we wanted to go a step further as we developed our new corporate headquarters.
We wanted to ensure people and the environment were at the heart of our new workspace design. We needed to find the right setting for our Auckland employees and develop an office that would help us become more sustainable. Moving required a holistic approach, incorporating climate change, environmental degradation, and waste mitigation.
"We wanted to create a great workplace for our people to enjoy. They were involved throughout the project," says Amanda Thorpe, TMNZ's Head of People and Culture. "Our people helped us select the office space and we ran engagement sessions with employees to discuss aspects of the design. We worked together to make our vision a reality for both TMNZ and the Whakatupu Aotearoa Foundation, as we continue to support the trust's philanthropic efforts."
The environment is a big focus for TMNZ and the Whakatupu Aotearoa Foundation. Through the Foundation we look to invest in initiatives that tackle climate change, environmental degradation, declining biodiversity, and waste. It was very important to us to give the same environmental focus and attention to the design of our new workplace.
Building a sustainable home
We selected an office at 23 Customs Street in Auckland and enlisted Peter Doyle, from NOWW Advisory and Wingate Architects, to help us build an eco-friendly workspace. Together we explored how we could reduce our environmental footprint with each decision.
"Materials used in the new space have been chosen with sustainability in mind," says Sarah Bryant, Associate Senior Interior Designer at Wingate Architects. "TMNZ's new home features Jacobsen's carpets made from recycled drinking bottles, Tarkett hard floors manufactured from recycled PVC, and Green Tag Certified Autex Cube ceiling tiles, made with at least 40 percent recycled materials."
We selected sustainably-sourced mataī joinery and panels, and recycled rimu tables. We also chose sustainable furniture fabrics for every chair and stool.
No detail was too small; desktop surfaces at TMNZ are now made of all-natural linoleum, produced from pure oxidised vegetable linseed oil and natural pine rosin. We also made use of recycled products, including a reused office pod that hosts our breakout meetings.
Making an impact, without waste
While we took a careful approach, moving from one place to another inevitably produces waste. In our case, much of our old furniture was no longer suitable for the new office. Our people worked to find a solution and struck upon an idea to recycle and make a social impact at the same time.
To ensure nothing went to landfill, we teamed up with All Heart NZ, a charitable organisation that works with corporates to redirect and repurpose unwanted corporate and construction items. The organisation offers 'Reduce partnerships', which help to further develop the sustainable, ethical, and social aspects of procurement and supply chain management. All Heart NZ has established a national circular solution for redundant corporate items, which creates employment, volunteerism, and training opportunities while supporting local community need.
All Heart NZ helped us to achieve a positive social and environmental outcome by redirecting 216 items weighing more than 6,500kgs. With items reused, repurposed, and resold, 100 percent of the benefit went to New Zealand communities in need.
Joe Youssef, All Heart NZ's Founder and Chief Encourager says: "We know that improving the ways we source and dispose of corporate goods can positively impact our planet and people. We partnered with TMNZ to redirect all redundant materials in preparation for their office move. Together we created a sustainable solution and community impact to be proud of."
Through our partnership, we added $16,700 in community impact value and avoided 7.6 tonnes of carbon emissions. All Heart NZ's partnerships have supported 439 different communities throughout Aotearoa and the Pacific, helping them save or raise more than $9.1 million, while at the same time assisting corporate partners to divert more than 3.7-million kilograms from landfill.
A welcoming space for our people
Our office was designed for our people. Collaborative spaces and new technology will enable us to work together and with our customers and partners regardless of where they are in New Zealand. Technology including whiteboard cameras, immersive collaboration spaces and fully cable-free working will make us more connected than ever and reduce the need for unnecessary travel. What's more, we have chosen technology suppliers that lead in terms of their sustainability commitments while at the same time provide a seamless employee experience.
We moved into our new workspace in March, and our environmental sustainability efforts continue. We have made an ongoing commitment to reduce waste sent to landfill and we're constantly exploring new ways to improve.
TMNZ and the Whakatupu Aotearoa Foundation have a shared vision of a "restored and thriving Aotearoa". Our new workspace will allow both organisations to come together with clients and charity partners in an open, inviting environment — one that has been designed to limit the impact on future generations.
While COVID-19 restrictions have prevented us from welcoming visitors into our new home so far, we look forward to showing customers and charity partners our new surroundings in the months to come as we mark new chapters at TMNZ and the Whakatupu Aotearoa Foundation.